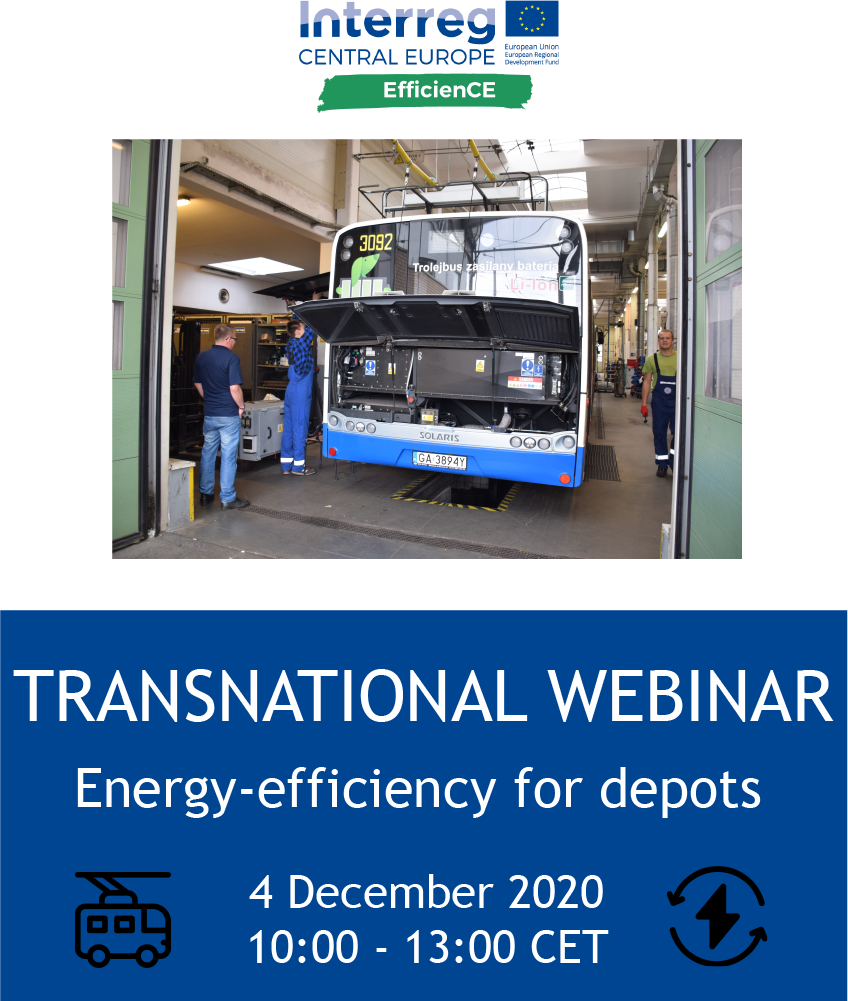 This online workshop will explore the innovations in energy-efficiency and local integration of renewables into public transport grids and depots in different European cities. We will discuss the latest advances for both trolley bus and "conventional" electric systems.
The webinar will start at 10 am and will end around 1 pm.
AGENDA
10:00
Welcome & Introduction
Wolfgang Backhaus, Rupprecht Consult / trolley:motion (AT)

10:10
EfficienCE project – aims and objectives
Marlene Demareau, Rupprecht Consult (DE)

10:20
Innovations for an Energy-Efficient Trolleybus Depot
Mikołaj Bartłomiejczyk, PKT (PL)

11:00
Battery powered electric buses and solar panel equipped bus storages – A profitable system
Mr. Edwárd Czédli, BKV (HU)

11:20
— B R E A K —

11:35
Energy-Efficient Depots
Markus Rubner, Wiener Linien (AT)

11:55
P2Mobility – The Münster Model
Lukas Peuckmann, Stadtwerke Münster (DE)

12:15
Photovoltaic Innovations for Energy-Efficient Depots
– DAS ENERGY GMBH
– Furrer+Frey (tbc)

12:40
Discussion and wrap-up
All

13:00
— E N D —

We look forward to seeing you there!