SPARCS on the "Markt der Möglichkeiten" (market of opportunities) in the Leipzig-Neulindenau climate district
06 july 2022 | Location: Leipzig
As part of the energetic district concept in Leipzig-Neulindenau, the participation campaign "Markt der Möglichkeiten" took place in the Dunckerviertel on June 16th, 2022 together with the SPARCS consortium. The city of Leipzig (office for housing construction and urban renewal) cooperated with seecon Ingenieure GmbH to reach the residents of the quarter. In addition to children and young families, older residents and citizens with a migration background were also included.
In addition to the presentation of the integrated climate protection district concept (KSQ) for Neulindenau, the event included citizen participation with a digital participation system (DIPAS). The digital planning table enables interested citizens to give precisely localized feedback on planning projects with the help of retrievable digital maps, aerial photographs, plans, 3D models and geodata. Ideas and suggestions for a climate and environmentally friendly design of the quarter can thus be introduced in a participatory manner. Meanwhile, the SPARCS consortium exchanged ideas with the visitors about sustainable energy supply solutions and mobility alternatives. The procedure, the actors and the current status of the KSQ were presented via iPads and the DIPAS table. Participants were given the opportunity to express suggestions, criticism or questions about the fields of action. This resulted in ideas such as installing bicycle racks, leaving lawns natural, developing butterfly meadows or expanding playgrounds.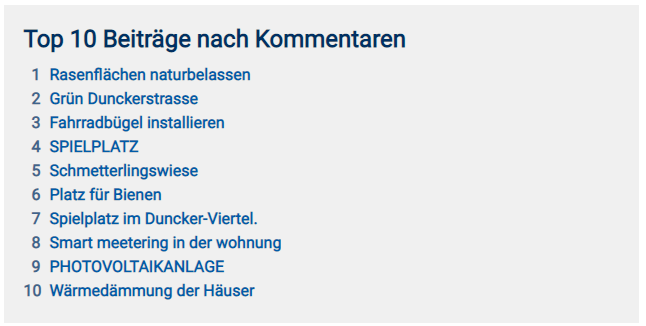 Image: Evaluation of the Dipas table based on comments
In addition, the "Markt der Möglichkeiten" offered a wide range of advice for citizens on all aspects of energy saving, climate protection and sustainable mobility and consumption. Energy advisors from the consumer advice center in Saxony and the coordination center for energy advice in Leipzig of the Mosaik e.V. were available for individual discussions. The KoLa Leipzig eG (Cooperative Agriculture) informed interested citizens about ecological, regional and solidarity agriculture, the civic network "Wir im Quartier" informed about neighborhood projects and design options for a livable, lively and environmentally friendly quarter.
Children were also included in the event as part of the award ceremony for the painting competition "What does your future home look like?". A total of 25 children from the Neulindenau district submitted their works of art.
Image: Painting competition – award ceremony ©Patrizia Bolognesi – Seecon Ingenieure